Shane McMahon Hospitalized (w/Justin C's Thoughts)
The WWE released the following news on WWE.com earlier tonight:
Shane McMahon is currently recovering from acute diverticulitis and an umbilical hernia in a New York-area medical facility, WWE.com has learned.

Two weeks ago on SmackDown LIVE, McMahon announced he would be taking an indefinite leave of absence from his position as the blue brand's Commissioner. Following that announcement, McMahon was brutally attacked by Kevin Owens and Sami Zayn. WWE medical staff initially diagnosed him with a laryngeal contusion and trapezius and rhomboid strains as a result of the beating.

Following the vicious assault, McMahon went to the Caribbean with his family to rest and recuperate. While there, Shane developed a massive infection due to acute diverticulitis and was hospitalized for several days in Antigua before being flown back to a New York-area hospital, where he is currently being treated with heavy doses of antibiotics. The doctors in New York have also discovered that Shane suffered an umbilical hernia during the attack, which will require surgery once the infection has been eradicated.

Stick with WWE.com for further updates on Shane McMahon's status as they become available.
http://www.wwe.com/shows/smackdown/article/shane-mcmahon-hospitalized
I'd find it very unbelievable that this is part of a storyline. You don't just throw something like diverticulitis out there and make it a part of the storyline. Diverticulitis is very serious and scary. It ended Brock Lesnar's MMA career and almost ended his life. Georges St-Pierre also dealt with it in his UFC comeback last fall, and he hasn't fought since.
Assuming this is real, I'd find it hard to believe that Shane wrestles at Wrestlemania. It would be completely unsafe for Shane to do so. And the fact that he still needs surgery for an umbilical hernia complicates the matter even more.
I didn't want Shane to have a match at Wrestlemania, but this obviously isn't the way I wanted it to happen. So now this likely means that Daniel Bryan needs a partner in his match with Sami Zayn and Kevin Owens. I doubt the match is scrapped, not after what happened last week on Smackdown Live.
So who is on the list of potential replacements for Daniel Bryan's replacements?
Dolph Ziggler- If I had to bet money on this, Ziggler would be the guy I'd put my money on. I wouldn't want it, but he's been getting more air time since he came back. It isn't a one-on-one match for Ziggler but it gets him on the Mania card.
Rusev- This would be the best option out of everyone on the roster. The crowd is dying for the WWE to get behind Rusev and putting him in a big match like this would probably get a good reaction from the crowd. Can you imagine the dueling Rusev Day/YES chants at Mania?
Chris Jericho- There is history there, and story wise it makes the most sense, but Jericho has a Fozzy concert in the afternoon and is suppose to be watching Mania with the crowd after.
I'm sure we will find out what happens this week on Smackdown. Of course, there is one person that would blow the roof off the Superdome if he returned to team with Daniel Bryan, but the odds of it happening are less than zero. We can dream though right…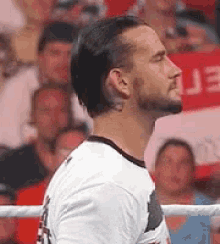 Justin C (@JCWonka on Twitter)