The HTCWrestling Staff Answers: What Is Your Favorite Stone Cold Steve Austin Moment?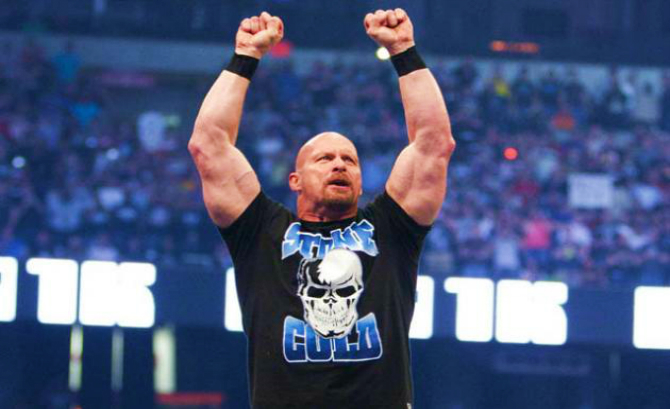 With today being Austin 3:16 day, the HTC staff tells us what their favorite ever Stone Cold moment is!
The Chairman: There are many worthy Stone Cold Steve Austin moments worth listing as the greatest one. My favorite however is the first time Austin gave Vince McMahon the Stone Cold Stunner. This was the birth of perhaps one of the greatest wrestling stories ever told. The Austin McMahon rivalry was top notch and is one of the key cogs that helped WWE defeat WCW in the Monday Night Wars of the late 1990's. Happy 3:16 Day!!!
Justin C: One of my favorite things with Austin are the moments he had with Vince McMahon during their rivalry. From attacking him in the hospital, spraying him with beer and the first Stunner, they were all great. I could go with his match against Bret, his first WWF Title win or his Wrestlemania 17 main event with The Rock. But I'm going with Austin driving in a zamboni to the arena and attacking Vince. It was one of the first instances of Austin using crazy tactics to get to Vince and it was great. Lawler and JR were also great on commentary here.
Matt: I'd have to say his breakout Wrestlemania 13 match with Bret Hart. To be honest, I was always more of a Stunning Steve Austin fan than a Stone Cold fan. But this match showed just how technically good Austin was in the ring before he realized his character only had to "punch-kick-stunner" to get over.
Heather: There are a ton of great Austin moments to choose from and I really almost chose the time Austin threw The Rock's IC belt into the river, but I can't get the voice of Vince McMahon screaming "YOU RUINED IT" out of my head. For that reason I'm going to have to go with the Raw where Vince is parading Mike Tyson out to talk about him being at Wrestlemania only to me interrupted by the incredible hot at the time , Stone Cold Steve Austin. It helped further the Vince McMahon tyrant owner and established Austin as the baddest man in the WWE. Great moment. Even when you knew it wasn't real, that sure made it seem more real.
Follow us on Twitter and vote in our poll!