The HTCWrestling Staff Answers: Who Should End Asuka's Streak?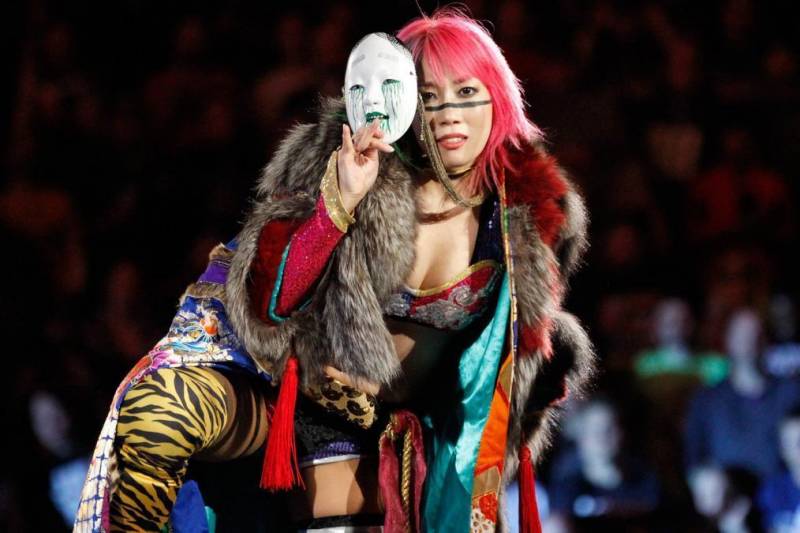 This week, the HTCWrestling staff answers the question that everyone likes to talk about: Who should end Asuka's undefeated streak? Thankfully, no one answered Kevin Nash with the help of Scott Hall and a cattle prod.
Cam: The short answer is no one, for now. There is a short list of women that should be considered, yes unfortunately, that includes Ronda Rousey. Asuka being undefeated brings a storyline that has never been seen on the women's side of story telling. Asuka has just about everything you want from a WWE women's superstar and if she develops a way to cut shortened English promos the sky is just the beginning. I'm afraid it's going to be Rousey, possibly at Summerslam. But if you gave the program some solid seeding a double turn with Asuka and Charlotte, Alexa Bliss, Bayley or Sasha Banks would be another good push for the women's division. Or ya know, build up Candace LeRae for a year and build Raw around her and Asuka.
The Chairman: I think Becky Lynch should be the one to end Asuka's streak and it should happen at Summerslam 2018. The reason I say Summerslam is because that is one of WWE's marquee pay per views and Summerslam needs a big moment. Seems like alot of the big moments are always saved for Wrestlemania. It's time to give Summerslam something big again! In my opinion, there's really no need to keep her undefeated streak that much longer. If you look back to Goldberg's undefeated streak, it just lasted over a year. Asuka's streak if you go back to her NXT debut in September 2015 at this point would be closing in on three years. How much longer can this streak possibly go? She's already defeated the entire Raw roster, some on multiple occasions and let's be honest. The Raw women's roster at this point in time is alot stronger than Smackdown Live's.
Now why Becky Lynch? You look at the women on both rosters and I see Becky Lynch as the one that needs another monumental moment. Other than being the inaugural Smackdown Live Women's Champion, she hasn't had many major moments. She never held the Smackdown Live Women's Championship at all in 2017 and never held the NXT Women's Championship. Becky it seems is always getting left behind compared to her Four Horsewomen counterparts, but here's the deal. Sasha Banks and Charlotte Flair don't need the rub of being the first to beat Asuka. Those two have already put enough feathers in their cap of making their mark and Bayley isn't a credible enough threat being Asuka has beaten her already several times going back to NXT including once for the NXT Women's Championship. That leaves Becky Lynch and this could be an epic encounter if built right. Of course right now they're on separate shows, but we all know a Superstar Shakeup is more than likely coming after Wrestlemania. Whether it's moving Becky to Raw or Asuka to Smackdown Live. If Becky and Asuka appear on the same roster, wrestling fans will want to see these two go at it one on one. We've already seen Asuka vs Sasha Banks. Asuka vs Charlotte Flair could be in the horizon for Wrestlemania? Asuka vs Becky Lynch is the match we need with Becky going over.
Matt: I'm going to say Charlotte. I can see the two having a similar rivalry to that of Ric Flair and Sting from the early 90s. Hell, maybe even them switching roles to have Asuka as the dominant Champion and Charlotte as the babyface. I can see this happening probably closer to SummerSlam but I don't think they'll keep the streak much longer than that.
Heather: While my original thought process was that Asuka's streak should be broken by a female wrestler she hasn't yet faced on the main roster, allowing Asuka to maybe play up wanting to avoid her eventual conqueror (maybe Ember Moon or Kairi Sane) – I decided to go a different direction that could end up strengthening 2 female wrestlers we're already familiar with.
I do think the end of Asuka's streak should be a big event and saved for next year's Wrestlemania. It's a long time, but if they're going to go all in on the streak they should really go for it. And if they're going to do it, it should be a big result, SO – and I'm surprised I'm saying this myself, I'm going Bayley.
Bayley has lost a ton of her shine on the main roster, but the fact remains that really nobody plays plucky baby face better than she does. Send her on a redemption arc over the course of later 2018 – let her start going over people who've done her wrong and let her gain her confidence back before finally winning next year's Women's Rumble. After almost a year of proving she's not just a lovable loser Bayley can finally say – she's ready for Asuka. Asuka could at that point be the cocky heel doing what she needs to to keep her streak alive, but finally go down. After, while Bayley celebrates, maybe then we get Bayley's former BFF, Sasha Banks, using her potential Money in the Bank briefcase to steal the huge moment from her former friend giving us two big events on one big night.
I don't hold real hope for this outcome, and assume it'll be Ronda Rousey taking her out, but I like the idea of two work horses getting a big moment. Some may think it'd cheapen Bayley's huge win, but it'd be big moments we'd never forget.
Justin C: The fun thing about putting this together every week is that I get to see everyone else's answers before I put mine up. And I have to say, I really like Heather and The Chairman's booking of Becky and Bayley beating Asuka.
It shouldn't be Ronda Rousey. Because then you would have to start a new streak with her. And I don't want to see that. Charlotte doesn't need it. As much as I really like Heather's booking of Bayley to beat Asuka, I can't talk myself into it. I'm going with my original thought and that is Ember Moon. The booking is really easy for it. Ember Moon did not win the NXT Women's Championship until Asuka relinquished it and went up to the main roster. I'm assuming Ember will be up on the main roster by SummerSlam. You can build her up to a match with Asuka at next year's Wrestlemania and have her win it there. If the WWE is smart they can play up the fact that Ember never beat Asuka in NXT, and have it eat away at Ember in the build up to it. Plus, Ember beating Asuka makes her an instant star in the eyes of WWE fans that don't watch NXT.
What do you say? Vote in our Twitter poll!